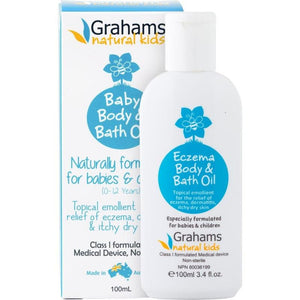 PRODUCT INFO 產品簡介
Formulated with natural ingredients 採用天然成分配製
Moisturizes and protects baby's skin 滋潤和保護孩子幼嫩肌膚
Calms skin and inhibits the spread of bacteria 鎮靜肌膚、抑制細菌傳播
Replenish skin moisture 補充皮膚水份
Grahams Natural baby eczema body and bath oil has been clinically formulated with natural ingredients, to help hydrate and protect your child's skin. This product has been specifically formulated for babies and children, and works well to treat conditions such as eczema and cradle cap.
For best results, we recommend using in conjunction with our Baby Eczema Cream.
How to use: 

There are a couple of ways you can use the Grahams Natural Baby Eczema Body & Bath Oil. You can try adding it to the bath, or a topical application.
Bath
We suggest to add 1-2 capfuls into tepid bath water. When you take your child out of the bath, instead of rubbing off the oil, pat the skin dry and massage the excess oil back into the skin. You may be required to use more oil if their skin requires more hydration.
Topical Application
The oil can also be applied directly to the skin. You can pour the oil directly into the palm of your hand and massage onto the skin as required.
For best results, after using the body & bath oil we recommend applying our Baby Eczema cream to the red inflamed areas of the skin. The combination of these two products is a powerful combination to help hydrate, protect and control the redness and itch associated with eczema.
Grahams Natural嬰兒濕疹修護沐浴油已在臨床上採用天然成分配製而成,有助於滋潤和保護孩子幼嫩肌膚,鎮定皮膚,抑制細菌傳播同時補充皮膚水份。
為了獲得最佳效果,我們建議與Grahams Natural嬰兒濕疹修護霜一起使用。

用途:適用於一般膚質及敏感性皮膚,新生兒、嬰幼兒和孩童均適用。針對乾燥、敏感的部位,或在沐浴泡澡時加入水中,讓肌膚達到油水平衡,達到長效滋潤。
使用方式:
沐浴時
將Grahams Natural嬰兒濕疹修護沐浴油加到沐浴的浴缸中。我們建議在溫水中加1-2蓋的份量。當您帶孩子離開浴缸時,請不要以擦乾的方式,而是要印乾的方式弄乾皮膚,然後將多餘的沐浴油按摩到皮膚。如果他們的皮膚需要更多的水分,則可能需要使用更多的份量。
直接塗於皮膚
您可以將油直接倒進手掌心,並按需要在皮膚上輕輕按摩。為了得到最佳效果,在使用Grahams Natural嬰兒濕疹修護沐浴油後,我們建議在嬰兒皮膚上的發炎區域塗上Grahams Natural嬰兒濕疹修護霜。這兩種產品是十分有效的組合,可幫助保濕、保護、抑制與濕疹相關的發紅和瘙癢問題。
Natural Ingredients 成分: Vitamin E, Neem oil, Olive oil, Sunflower seed oil, Jojoba oil, Avocado oil, Squalene, Caprylic/capric triglyceride, Bisabolol, D-Alpha Tocopherol.
【Grahams Natural - Natural Formulated & Clinically Proven Result From Australia 澳洲天然醫學護理權威品牌】
*Formulated With Natural Ingredients 天然成分萃取
*Australia TGA Medical Class Certification 榮獲澳洲TGA醫療級認證
*Passed GMP & ISO22716 Good Cosmetic Manufacturing Certification 通過GMP及ISO22716國際護膚品優良製造認證
*Recommended by Australian Medical Institutions 澳洲專業醫療機構推崇
*Originally Imported From Australia 澳洲原裝進口
Precautions 注意事項:

Avoid direct sunlight or store in high temperature 避免日光直射或放置高溫處
Avoid reach of young children 請放置在幼兒拿取不到的地方
Please stop using if your skin is abnormal or uncomfortable 肌膚如有異常或不適請暫停使用


Origin 原產地: Australia 澳洲
製造商:Grahams Natural Alternatives Pty Ltd
進口商:俞寶國際股份有限公司
批號、製造日期、保存期限:標示於商品外包裝
成分:詳見商品標示