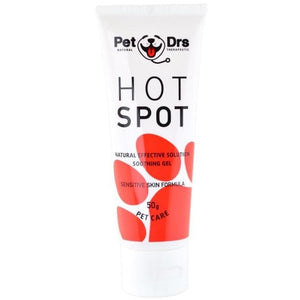 PRODUCT INFO 產品簡介
Anti-inflammatory – Calms and reduces inflammation with power anti-inflammatory herbs of Calendula and Gotu Kola. 抗炎 – 使用金盞花(Calendula)和雷公根(Gotu Kola)的強效抗炎植物性成分幫助鎮靜及舒緩炎症

Antibacterial - Active Manuka Honey helps to control bacteria on the skin. 抗菌 – 活性麥盧卡蜂蜜(Manuka Honey)有助控制皮膚上的細菌

Hydration - Moisturising ingredients of Aloe Vera to hydrate dry and irritated skin. 保濕 – 蘆薈(Aloe)的保濕成分滋潤乾燥和舒緩受刺激的皮膚

Pet Drs use the safest natural ingredients for your fur baby.
Hot Spot Gel can be kept in the fridge, so it is calming and soothing on in-flamed skin.
Hot Spot Gel is a natural treatment that is specifically designed for dogs that have an overgrowth of bacteria on their skin.
There are 24 Million pets and dogs make up 5 million of our beloved best friends.
Out of this 90% of dogs have some sort of issue with their skin.
How to use: 

Apply liberally to affected area. Reply as required throughout the day.
Pet Drs 寵物舒敏保濕啫喱有助舒緩您的寵物因炎症而出現發紅的皮膚。天然配方有助鎮靜及舒緩皮膚。天然配方即使寵物攝入都可以放心。

Pet Drs 寵物舒敏保濕啫喱可以保存在冰箱中,更有效鎮靜和舒緩發紅皮膚。
適用對象:寵物適用。用於一般膚質,敏感性或極敏感性皮膚。
使用方式:需要時用,可經常使用。Pet Drs寵物舒敏保濕啫喱有效保持患處濕潤(每天2-3次)。以少量份量稀薄地塗於寵物的皮膚上。如果症狀持續,請諮詢您的獸醫。建議先進行局部皮膚反應測試以檢查過敏反應。
Ingredients 成分: Aloe Vera, Aqua, Manuka Honey, Centella asiatica, Calendula, Witch Hazel, Chamomile extract, Polysorbate, Phenoxyethanol, Acrylates/c10-30, Alkyl acrylate crosspolymer, Allantoin, Disodium edta, Potassium hydroxide.
【Grahams Natural - Natural Formulated & Clinically Proven Result From Australia 澳洲天然醫學護理權威品牌】
*Formulated With Natural Ingredients 天然成分萃取
*Australia TGA Medical Class Certification 榮獲澳洲TGA醫療級認證
*Passed GMP & ISO22716 Good Cosmetic Manufacturing Certification 通過GMP及ISO22716國際護膚品優良製造認證
*Recommended by Australian Medical Institutions 澳洲專業醫療機構推崇
*Originally Imported From Australia 澳洲原裝進口
Precautions 注意事項:

Avoid direct sunlight or store in high temperature 避免日光直射或放置高溫處
Avoid reach of young children 請放置在幼兒拿取不到的地方
Please stop using if your skin is abnormal or uncomfortable 肌膚如有異常或不適請暫停使用


Origin 原產地: Australia 澳洲
製造商:Grahams Natural Alternatives Pty Ltd
進口商:俞寶國際股份有限公司
批號、製造日期、保存期限:標示於商品外包裝
成分:詳見商品標示