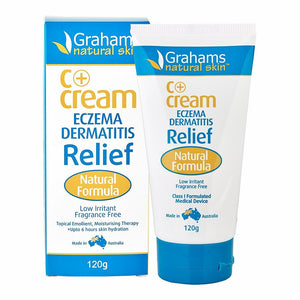 PRODUCT INFO 產品簡介
Repair dry or extremely dry, itchy, sensitive skin 修護乾燥或極乾燥、痕癢、敏感皮膚

Instantly soothe skin and provide long-lasting moisture 即時舒緩、長效滋潤

Strengthen skin's protective barrier and enhance skin's protective power 強化皮膚的保護屏障,增強肌膚的防護力

Our eczema cream works to calm the skin, control the spread of bacteria and hydrate the skin. We have created an 'oil-in-water' formula, which means it provides a cool, soothing feel to relieve itching and pain. Suitable for all ages, our Natural C+ Eczema Cream is a must-have for all eczema sufferers.
Benefits
Anti-inflammatory: Calms and reduces inflammation with powerful anti-inflammatory herbs
Antibacterial: Active Manuka Honey helps to control bacteria on the skin, naturally
Hydration: Moisturising ingredients to hydrate dry and irritated skin, clinically tested for 6 hours of hydration.
Steroid free formula
Scientifically formulated using all natural ingredients
How to use: 

Apply Grahams Natural C+ Eczema Cream as often as required to keep the affected area moist (2-3 times per day). Use a small amount spread thinly over your skin. Always follow directions from your doctor, and refer to the leaflet printed on the inside of the box. Always read the label. Use only as directed if symptoms persist see your healthcare professional.
修護乾燥或極乾燥、痕癢、敏感皮膚,使肌膚問題獲得改善,立即舒緩、長效滋潤,強化皮膚的保護屏障,增強肌膚的防護力。

主要成分:金盞花萃取物、麥蘆卡蜂蜜、雷公根萃取物、荷荷巴油
成分小知識:金盞花萃取物 - 有助調理乾燥肌膚,保持皮膚濕潤,舒緩肌膚不適 麥蘆卡蜂蜜 - 被受皮膚科專家推祟,有助修護肌膚,提供肌膚舒適度 雷公根萃取物 - 調理肌膚,改善因乾燥引起的皮膚痕癢 荷荷巴油 - 緩解肌膚乾燥,調理肌膚水油平衡,使肌膚留住水份
適用對象:一般膚質,敏感性或極敏感性皮膚。特別適合濕疹皮膚使用。
使用方式:每日早晚取適量塗抹於患處或乾燥之處,輕撫按摩至吸收,視情況可隨時補充。
Natural Ingredients 成分: Purified Water, Wool Fat, Squalane, Cetostearyl Alcohol, Glyceryl Monostearate, Medium Chain Triglycerides, Isopropyl Myristate, Honey, Simmondsia Chinensis Seed Oil, Calendula Officinalis Extract, Centella Asiatica Extract, Phenoxethanol, Caprylyl Glycol, Sodium Stearoyl Glutamate, Sorbitol, Hippophae Rhamnoides Fruit Oil, Stearic Acid, Guar Gum, Sodium Pca, Disodium Edetate, Xanthan Gum, D-Alpha-Tocopherol, Ethyl Ascorbic Acid, Lactic Acid.
【Grahams Natural - Natural Formulated & Clinically Proven Result From Australia 澳洲天然醫學護理權威品牌】
*Formulated With Natural Ingredients 天然成分萃取
*Australia TGA Medical Class Certification 榮獲澳洲TGA醫療級認證
*Passed GMP & ISO22716 Good Cosmetic Manufacturing Certification 通過GMP及ISO22716國際護膚品優良製造認證
*Recommended by Australian Medical Institutions 澳洲專業醫療機構推崇
*Originally Imported From Australia 澳洲原裝進口
Precautions 注意事項:

Avoid direct sunlight or store in high temperature 避免日光直射或放置高溫處
Avoid reach of young children 請放置在幼兒拿取不到的地方
Please stop using if your skin is abnormal or uncomfortable 肌膚如有異常或不適請暫停使用


Origin 原產地: Australia 澳洲
製造商:Grahams Natural Alternatives Pty Ltd
進口商:俞寶國際股份有限公司
批號、製造日期、保存期限:標示於商品外包裝
成分:詳見商品標示